"Terri and her staff assisted me in the sale of one home and the purchase of two homes. I previously had listed the home for sale with another company and was patient for six-plus months while absolutely nothing happened. I found Terri and her staff and was glad I did. She laid out a plan with some options and then executed it to perfection. My home was sold in less than two thirds the time of the previous company and with most satisfactory results. Due to my being very particular in what I was looking for, I expected a battle. Terri and her gang were relentless in their efforts to find what I wanted and of course they did. Not only was the relationship helpful and professional it was actually fun. This team 'took care of business' in every possible way including the smallest of details. If you are looking for a top-notch real estate pro, hire Terri and her team!"
by Dan Warwick
"Terri is at the top of her game! She knows the residential real estate market. Her sense of value and pricing is extraordinary. She adds great value for her clients by knowing the market, trends, and judging accurate values of houses. She gets the deal done! Her knowledge of people and their needs makes such a difference in negotiations. Terri is a joy to work with. With charm and grace she is also firm when she needs to be. After helping us buy, then sell, then buy another home, we give our highest recommendation to any prospective client."
by Ralph and Jan Smith, Fort Worth
Very professional, and very customer focused team.
by Thomas Weaver
Best realty group I know. They go the extra mile for their clients. Have bought. & sold 3 properties thru them.
by Carol Poleski
They really know what they are doing! Very dedicated group!
by Teresa Hawk Bell
Hi Terri, I want you and your team to know how much Doug and I appreciate all you did in making the sell of our home easy. Selling your home is very hard thing to do emotionally, physically and mentally. Since this type of transaction is done only several times in someone's life remembering and understanding all the laws and process is not easy. You and your team made this much easier then I would have expected. You were honest, upfront and gave full disclosure as to what to expect and except. You were always available when we needed you or had questions. The announcement of the property on the market was very strategically thought though. Because of your knowledge, I believe we were able to get a contract in 48 hours and receive the price we needed to buy our new home. You will be my first call when or if i decide to sell again. Thank you again for everything, Toni Stevens
by Toni Stevens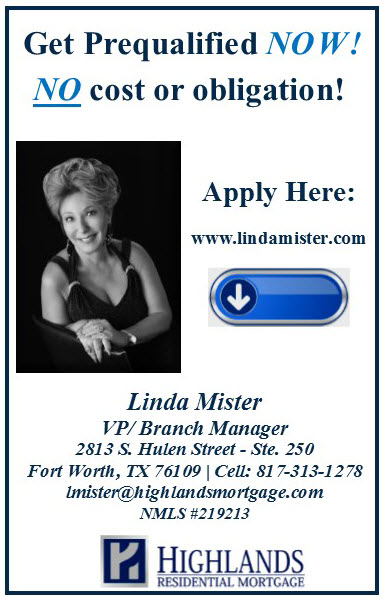 Linda Mister
Highlands Residential Mortgage
NMLS# 219213
Direct: 817-313-1278
Cell: 817-313-1278
VP/Branch Manager, 2813 S Hulen St,
Fort Worth Texas 76109
We offer the best mortgage tools available on the Internet – easy, convenient, online shopping for the best loan programs and most current rates available, together with the assistance of an experienced live loan officer to guide you through the often difficult and confusing process of choosing and getting the exact loan to meet your specific needs.


Highlands Residential Mortgage Company is an Equal Housing Lender; Company NMLS #219213
Highlands Mortgage Company is not affiliated with Keller Williams Realty Fort Worth - The Christian Group.
This is a paid advertisement.
;